How *Not* to Shop for Peony Stands
It was a simple request that I made in the garden department.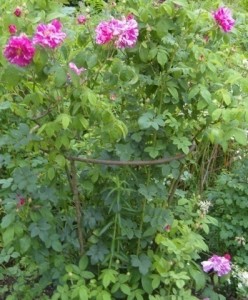 "Do you sell Peony stands?"
The teenaged employee's eyes widened.  An impressive shade of scarlet hijacked his cheeks.
"Um, what?"
"Peony stands.  You know…to hold them up so they won't droop when it rains?"
"Uh…Idunno.  Haven't seen those."  Snort.  Cough.
"Well, could you ask someone?"
"Ummm…ok."
He disappeared.  An unshakable sensation that I'd stumbled into a campy rerun of  Three's Company possessed me.
Minutes later, the boy returned with the manager.
"We're not that kind of store, ma'am.  No panty stands.  You'd best try Victoria's Secret in the mall."
 Bases on a writing prompt from
"Write a 100-word vigniette of active verb goodness."
Related Posts via Categories