YOU GUYS!  I have been nominated as one of the Top 25 Humor Blogs of the year over at SkinnyScoop!  Would you mind taking a moment to click over, scroll down to my Spin Cycle icon, and click "like?"  Thank you!
Also:  A bit of business…Thank you to everyone who entered the Thinkfun WordARound giveaway! Click here and scroll down to view the winner in the Rafflecopter box of the giveaway post.  I'll be emailing the winner today to obtain shipping address information.  I hope that they enjoy the puzzle as much as we have.
And now…Back to our regularly scheduled Valentines Day post:
*************************************************************************************************************************
Dearest Ginormous Handbag of Mine,
You know who you are.  The one that has been at my side longer than my groom.  The one with the seams stretched to their limits.  The one that smells as if something unsavory has been left within you to die a slow, horrible death.
Yes…you.  You are all of these things, as well as other things far, far more horrific.  And yet…inexplicably…
I love you.
There.  I said it.
You hold my deepest, darkest secrets.  I  cram junk lovingly tuck treasures away within your confines, and I know that you will never divulge them to the outside world.
Unless I am asked by the lovely Kelley of
Kelley's Break Room
to dump your contents for all of the blogosphere to see.
*drum roll*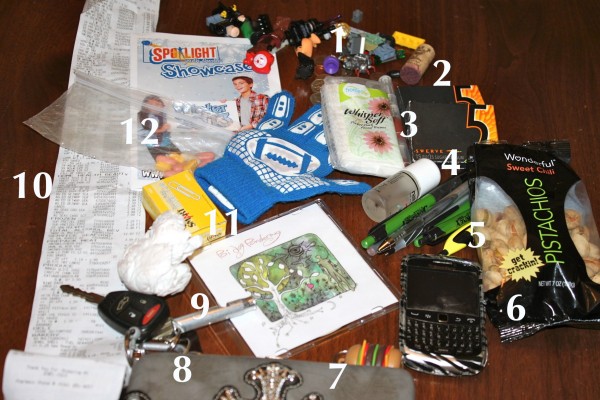 Bam.  See the corresponding numbered list below to decipher what the flippin' frack was in my bag.
1.  One Bazillion Lego Guys confiscated from The Small One as he tried to smuggle them to school.
2.  Stag's Leap Wine Cork…evidently, I had a *great* night recently.
3.  Tissues.  *Tip* If you have your sick Cherub blow their nose right before you drop them off at school?  You get a good hour of Mommytime before school calls you to pick them up.  Or so I've heard.
4.  Clear Coat Nail Lacquer.  Sort of a Jack of all trades: Nail cover, run stopper, Cherub mouth sealant, etc.
5.  Assortment of Pens, half of which are monogrammed with our vet's name.  Sort of like
still having a dog
, I suppose.  Le sigh.
6.  Blackberry.  Not an Iphone.  Blackberry.  Don't judge.
7.  Burping Cheeseburger Key Chain that Twin B Received in his Stocking at Christmas.  WTHeck, Santa?
8.  Wallet and Car Keys.  Duh.
9.  Poi Dog Pondering CD.  A nice alternative in the car to the
KidzBop
juggernaut.
10. Behemoth Grocery Store Receipt.  This purchase should see the five of us through the week.  No lie…I think I'm raising goats here.
11. Box of Paperclips Lifted from the School Office when I Stopped in to Volunteer.  Sshhhh.  Why thievery?  See Behemoth Grocery Store Receipt.
12. Leftover Vitamins from our Last Family Vacation in a Baggie.  Yes, officer…they're really VITAMINS.
Aaaand there you have it, friends.  My purse Kelley-dumped for your amusement.  Ain't love grand?  What's in your bag?
Related Posts via Categories