Question:
Do you do blog conferences?
To date, I haven't.
But it seems that it's all I hear about in my online circles these days.  How they make us better writers, networkers, and entrepreneurs.  How imperative is that we set aside the time to attend.
As well as the money.
Not to mention the offspring that we must sell in order to secure the cash and child-free time necessary in order to participate in said conferences.
I'm sort of kidding and not at the same time…These things are seriously expensive and time-consuming, friends.
So if a blogger wishes to attend a conference but is lacking in both the time and the capital…but a blogger still wishes to reap the benefits of a conference, what's a blogger to do?
Drum roll…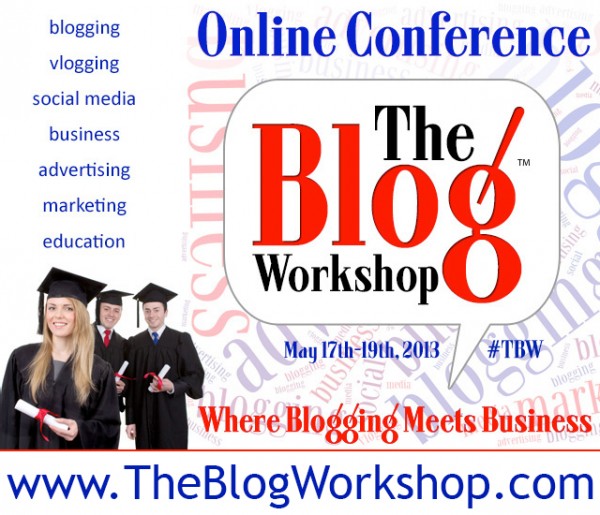 The blogger attends The Blog Workshop, that's what.
It's a real live conference that you can enjoy from your own living room.  Or your bedroom.  Or your front porch.  Or your bathtub.  Provided that you take the necessary safety precautions.
But I'm getting carried away.  (seriously, though…wouldn't a bubble bath blog conference be the ultimate?)
Ahem.  This conference boasts a spectacular agenda featuring experts in all things blogging, technology, and social media.  Speakers from IZEA, Blog-Trends, Blogads, and Sverve are just a few names on the dockett.  There will be giveaways for vlogging equipment, LLC packages from LegalZoom, and more.  There will be mimes, contortionists, and sword swallowers.
Wait…no…no, there won't.  But the giveaways?  And the all-star line-up?  Totally legit.  And check out the agenda for yourself: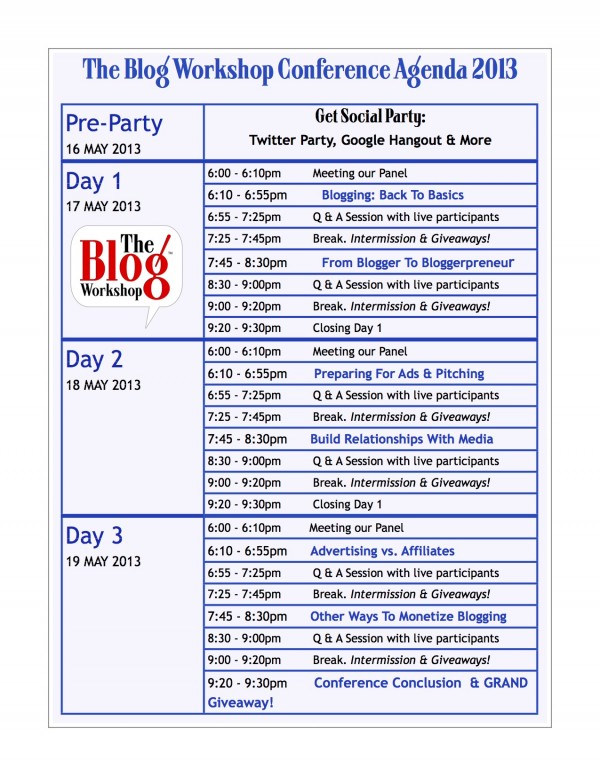 No travel involved.  And the cost?  A fraction of a traditional conference.
Want more incentive?
Okeydoke.  I have in my posession a coupon code, effective through April 26th, that's good for $25 off of your workshop registration fee.
Le Code:  TBW25HURRY
Le Link to register:  Click Here
Les Answers to Frequently Asked Questions:  Click Here
Want to see a video with a sneak peek at some of the presenters and topics?  Checkitout:
Tell me you're not completely sold on this event.  Just try.
The coupon expires on the 26th, and ticket sales end on May 10th.
Will you join me?  I'll be serving my famous sparkling pear martinis.
To myself.
But still.  It'll be awesome.  Just in a BYOB sort of way.
See you there!
Disclosure:  I am receiving admittance to The Blog Workshop via Sverve as compensation for writing this post.  All opinions are my own.
Related Posts via Categories