YOU GUYS!  I have been nominated as one of the Top 25 Humor Blogs of the year over at SkinnyScoop!  And would you believe that I'm currently in second place, with voting ending TODAY?  Please take a moment to click over, scroll down to my Spin Cycle icon, and click "like" to vote. And by all means, please share the link!  Thank you!
—————————————————————————————————
So.  Let's get right down to it today, shall we?
God and I?  We're tight.
Stop looking at me like that, friends…If you had as much confessing to do as I?  You'd be just as tight.
What's more, over the course of the past few weeks, He has made His will for me abundantly clear.
He has sent me signs.  And affirmations.  And starry alignments that I can no longer call coincidences.
And do you know what He is telling me?
Of course you don't.  That's why you're here, no?
He wants me…
wait for it…
…to have an Iphone.
Yes.  Of this I am certain.  And by way of evidence, I offer…
The Top Five Signs from God that Tell Me I Need an Iphone
5.  I'm getting callouses on my fingers from the keypad on my Blackberry.  Aside:  I'm also growing weary of pretending in mixed company that my Blackberry is an Iphone and pantomiming little touch-screen finger bluffs.  Although I have become quite adept at it.
4.  I can't understand the cute little emoticon thingies that my friends send me in their texts.  What looks like this on an Iphone?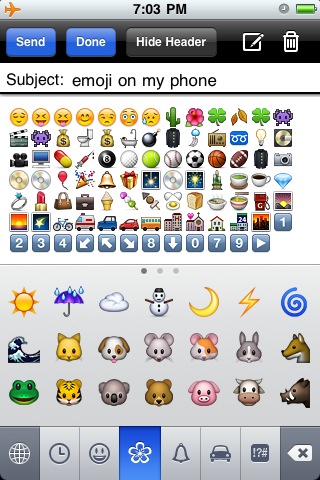 Looks like this on a Blackberry.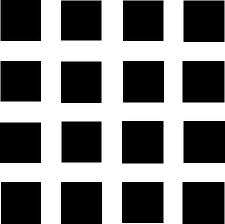 I spent weeks under the impression that my contacts thought me to be a square before I caught a glimpse of an actual Iphone text and became hip to their lingo.
3.  I cannot reply all when I receive a group text from my Girlfriends.  The last time I tried to do so, saying, "Girlfriends! Pick me up on the way out to Sushi World tonight!" the message was received by only one Girlfriend, who was home sick.  Unaware of this, I waited at the edge of my driveway for an hour that evening and was picked up by nobody.  Unless you count the attempt made by the elderly gentleman out walking his Dachshund by moonlight.  And I don't.
2.  My Blackberry case is broken.
How did it break, you ask?
Well, I'll tell you. It popped open whilst I was riding in the back seat of a friend's car.  My well-meaning friend found in on the floor mat the next morning.  No worries, texted the friend, adding a cute little emoticon thingy that looked like a square to me.  I'll have my groom drop it off for you on his way to work today, said the friend.
And drop it off, he did.  In a snowbank next to my mailbox as he drove past my home at a 35 mile per hour clip whist running late for work.
I kid you not.
Anyway.
Trying to find a stylish replacement cover is about as easy as finding replacement parts for an IntelliVision gaming set.  note:  If you don't know what IntelliVision is?  You're too young to be reading The Spin Cycle.  They just don't make 'em any more, friends.
1.  A week after my Blackberry case broke, I dropped my naked Blackberry in the toilet.  I'd rather not divulge the details of exactly how this came to pass.  But it did.  And the blasted thing came back to life after a little slumber party in a Tupperware-clad bed of rice.  And while I should have rejoiced at this small miracle?  I wanted to drown the DingleBlackberry all over again.
So there you have it, friends.  My birthday's a mere three months away.  As are the end of my patience and sanity.  Pray for me, won't you?
Amen.
Inspired by a prompt from Mama Kat's Writer's Workshop:  "Incorporate the phrase, 'Stop looking at me like that,' into your post."
Related Posts via Categories