This is a re-running of a guest post I wrote for Literal Mom.
Summer.
Summaaahhhhh.
What a fabulous invention.  I salute its creator.  Yaaaay, God!  *split jump; spirit fingers*
Swimming.  Bike rides.  Camp.  Lemonade stands.  Time with friends.
And books. Gobs and gobs of books.
Ever since I was a kid, I have found something delicious about becoming totally immersed in a story.  Of losing all sense of time and my childhood surroundings as I intently turned pages, savoring the illustrations, reading favorite snippets aloud on occasion, playing with pronunciation and inflection.  Of being somewhere else entirely while perched upon the family room couch.
The Twins, at age eleven, are this way as well.
But The Small One?
Meh.  Not so much.
And, though I know it shouldn't…though I take care not to let it be known to him…it irks me to no end.
He is a voracious and strong reader.  But he has serious tunnel vision when it comes to book selection.  He is a non-fiction boy to the core.  If it contains instructions, diagrams, and an index for handy, at-your-fingertips reference?  If he can consult it to become a better Lego builder, more knowledgable Star Wars enthusiast, or more proficient Pokemon trainer?  He's all over it. Seize book.  Extract information on a need-to-know basis.  Discard book.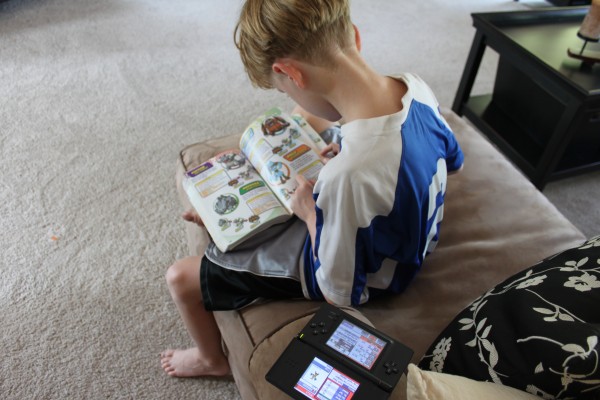 My Need-to-Know Reader in action.
But fiction?
No way.  
No how.  
Fiction-schmiction, Mom.
And to this former teacher, that is a dreadful injustice that rivals mediocre instructors' pay and gag-worthy school lunches.
I guess I'm just a bit old-fashioned that way.
I so want The Small One to appreciate a good story.
I can't just tell him to do it.  Or plop him down next to me, saying, "Today?  I choose this book to share with you."
Ooooh, no.
Trail-blazing, strong-willed thing that he is, he'd run for the hills at the thought of taking Mom's advice or following in the footsteps of The Twins.
So this summer, I've been on a covert mission to introduce The Small One to the wonderful world of make-believe. *Cue Mr. Rogers Theme Song*
One afternoon just before school let out for the year, I attacked the bookcase in his bedroom, pulling titles off of the shelves and throwing them into a basket.  Books that have been there for years but were gathering a layer of dust as they sat, forlorn and neglected, as he favored his manuals and how-to books.
Caldecott finalists.  Newberry winners.  Picture books.  Chapter books.  Selections of varying length, difficulty, and thematic matter.  Pieces of my childhood and teacherhood in print. Yellowing, earmarked pages, chunks missing from the front covers, warts and all.  There was no rhyme or reason to what I picked.  If I liked it?  If it tugged at my heartstrings for one reason or another?  Into the basket it went.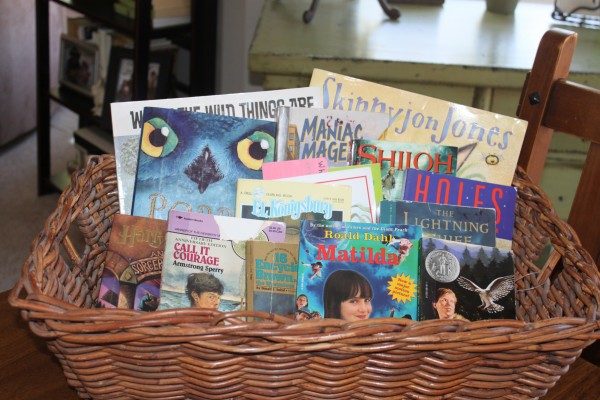 I put the collection underneath the green side table that sits in our kitchen.  A spot that is at once unobtrusive and easy to access.
I stealthily affixed the telescopic lens to my camera.
And I waited.
And waited.
About a week later, giddy with the newness of summer vacation, The Small One literally ran into the bait basket whilst doing post-breakfast laps around the kitchen table.  He yelped and stopped in his tracks, sizing up the unfamiliar barricade that protruded from underneath the table.
The child plunked himself down, cross-legged, right where he had stopped to have a closer look-see.
Around the corner, I held my breath, camera trained upon my prey son.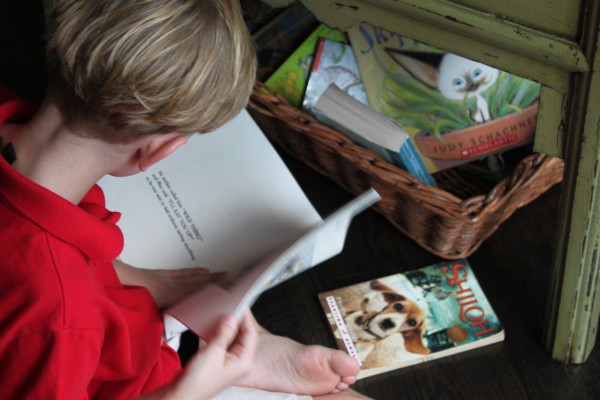 After rooting around a bit, he made a selection.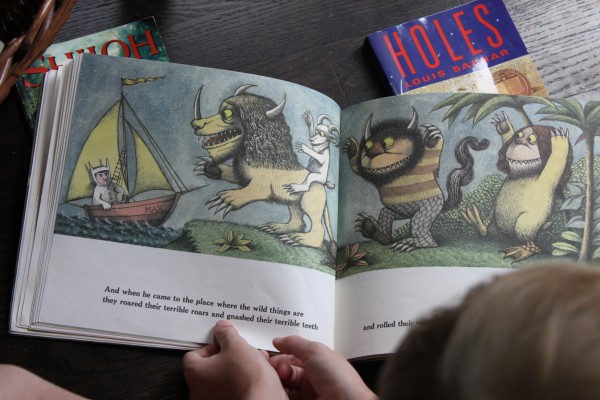 Where the Wild Things Are.  Be still, my fantasy-loving, rapidly beating heart.
And since that day?  He has returned to that basket.  On his terms.  When the mood strikes him.
Sometimes we read together.  We have been working our way through Matilda…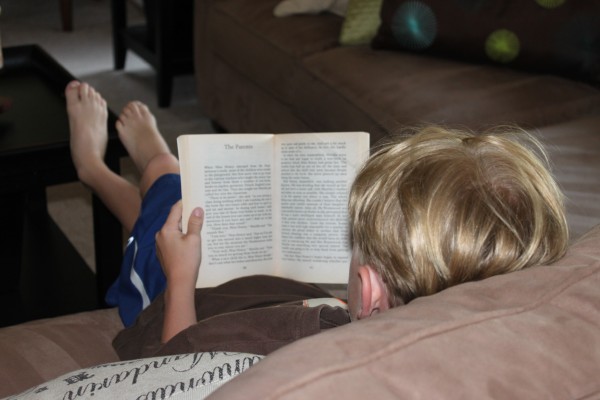 …although sometimes he'll pick it up and zip through a chapter or two on his own.
He is way into telekinesis now, by the by.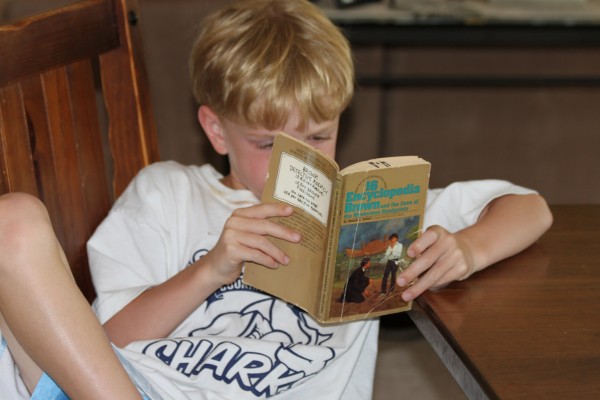 He has acquainted himself with Encyclopedia Brown.  Turns out that mystery-solving comes as second nature to inquisitive creatures such as The Small One.
And just look at what I found in the mud room, poking out of the front pocket of his swim team backpack.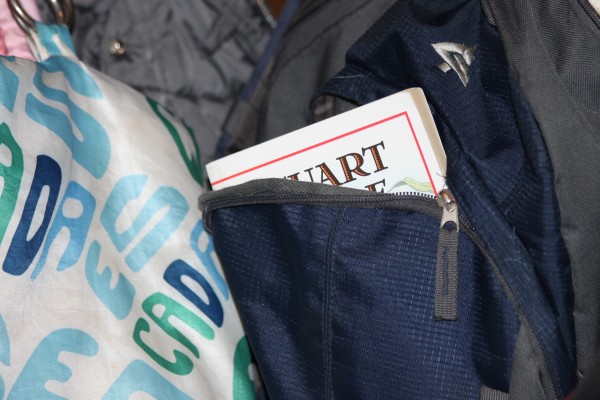 Mmm hmmmm. The legendary Mr. Little himself. *insert itty bitty happy dance*
Mission accomplished.
How and what are you reading with your kids this summer?
**The ThinkFun Distraction Giveaway winner from last week never responded to my email, so I've randomly selected a new winner:
1) Mark: mh————-
Congratulations, Mark!  I've emailed you…kindly respond so that ThinkFun can send you your game.
Related Posts via Categories