Hey there, Facebooker!  If you like it, then share it!  It's easy as shack bread with the little "Facebook" icon at the end of the post.  Gracias!
Author's Note:  Today's post has been supplied in large part by The Small One, who I picked up from school at noon on Wednesday with a low-grade fever.  Inspired by Mama Kat's Writing Workshop, I asked him to dictate an open letter to all women.
He refused.
I did, however, manage to elicit an open letter from him to me.  In it, he waxes poetic about what I do well as his mother…along with a thing or two that he might change if he could.
Dear Mom,
I think that I should get more screen time.  I only get an hour each day.  Except for today. Because I'm sick and I deserve it.
I also want to talk about dinnertime.  I'd like to have more of my favorite dinners.  Like Ham & Shells.  But you barely ever let us eat it because it's not healthy.  And even though you found out a way to make it healthier with milk instead of cream, you still don't make it all that much, and that makes me kind of sad.
There are some foods that I don't want to have.  Like the sausage soup thing.  Actually, it's not the soup I don't like.  It's the sausage.  Sausage belongs with pancakes, waffles, and other breakfast foods.  But not in soup.  That's just odd.
And then there are the taquitos.  They tasted like bread shacks.  A bread shack is like a gingerbread house that's gone rotten.  Actually, any food that is way too crunchy can be a bread shack.  Crunchy is usually good, like when it's in apples and potato chips, but not in my main course.  Way, way, WAY too crunchy.  No more bread shack foods.
And then there's most Pinterest Foods in general.  What I don't like about Pinterest Foods is that they're usually completely bizarre and odd.  They look nice, like in the pictures on your computer, but I feel different about Pinterest Foods when they're lying there on my plate. Sometimes food can be as good as it looks, like nachos.  But with most Pinterest Foods that is not true.
Sometimes I think about hiding your computer.  This would be a good thing because then you wouldn't get any more Pinterest Food ideas.  But then that could also be a bad thing because you might miss your computer a lot and get really sad and then mad.  Plus, how would my Cool Cat Press books for school get typed up?  But it would be for a really good cause, so I think I might try hiding your computer anyway.  You know, sometime when you're not expecting it.
There's one more thing:  Punishments.  When I get in trouble and you send me to my room, you press timer-eight-zero-zero-start on the microwave.  That's because I'm eight years old.   I think it should be how old you are, minus two.  I think that would be fine.  Then The Twins would go to their rooms for nine minutes when they get in trouble, and I would go for six minutes.  That is two more minutes that I would get to spend with my family that I love very much.
I do approve of some things, though.  Like when I get sick at school.  Like today.  You wrap me up in the sickie blanket and gives me popsicles and juice in a sippy cup.  I also like that you let me eat pretty much what I want except for dairy which can do harm to your stomach if it's already upset.  All of the extra T.V. and computer are very good, too.  But I already told you that.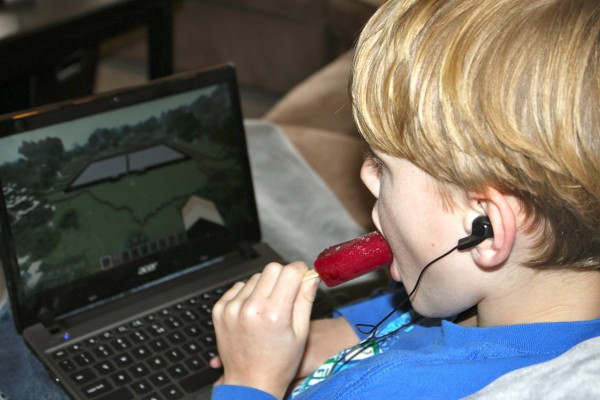 I just want to play Minecraft now, so I have to go.
Love,
The Small One
Related Posts via Categories