First:  A bit of business…Thank you to the 48 entrants for the Thinkfun Daily Puzzle giveaway!  Click here and scroll down to view the winner in the Rafflecopter box of the giveaway post.  I'll be emailing the winner today to obtain shipping address information.  I hope that they enjoy the puzzle as much as we have.
And now…Back to our regularly scheduled post:
*************************************************************************************************************************
Happy New Year, friends.  Did you do it up right?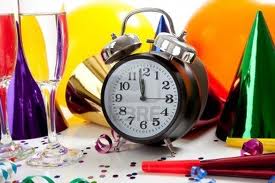 Boogie on down?
Party until the cows came home?
Me?  I spent New Year's Eve in Mexico in the company of thirteen other family members, plus scads of strangers at an all-inclusive shindig.  We were treated to an international buffet of epic proportions, a live Avengers-themed stage show, and dancing to the selections of a disc jockey with an affinity for Laura Brannigan and The Thompson Twins.
And, friends…I partied until the cows came home.  *fist pump*
Or until approximately 9:55 pm, when the third glass of chardonnay kicked in and I found it prudent to take a little nappy-nap at the dining table.
My groom, ever the attentive one, was at the ready with my phone camera.  He captured the moment perfectly and sent it via text message to our friends back home.
I don't know what I've done to deserve him.
One might be tempted to think that I'm feeling obliged to share the image with you here, on The Spin Cycle.
And one would be wrong if one were to think that.
But don't you worry about me, friends…I rallied after my power snooze like the rock star that I am.   At 10:30, I raised my head, rose from the table, and with a flourish…
I retired to our family's casita.
Because *that's* how I roll.
Come to think of it, I spent last New Year's Eve adhering to a similar timetable.
And the one before that as well.
I'm not old enough to behave this way.  And it needs to stop.
Now.  I typically poo-poo the idea of resolution making.  I think of it as flinging the door to Disappointment wide open and ushering inevitable Feelings of Failure within.  What is that crazy statistic regarding how many people fall off of their self-inflicted resolution bandwagon within a month?
I just don't care to clamber aboard that bandwagon.
Plus…If I decide to make a change for the better?  I can do it any old day.  Not just on December 31st under the influence of sentimentality, bravado and a glass or two or nine of bubbly.
However.  I am breaking with tradition by actually making a resolution this year.  And that would be to keep my eyeballs until midnight on the next New Year's Eve.
That's it.
It's a simple, attainable goal.  One that will save me from being slapped with the moniker of Ultimate New Year's Eve Party Pooper.
As well as from my own phone camera.
How about you, friends?  Have you made any resolutions for this year?  Or do avoid them at all costs?
Do tell…I'd love to hear where you stand on the issue.
Inspired by a prompt from

"Resolutions.  Love 'em?  Hate 'em?"
Related Posts via Categories