First:  A bit of business…
The winner of the BYOU Magazine subscription giveaway is:
1) Susan: sgeh——–
Congratulations, Susan.   I've emailed you to obtain shipping address information.  I hope that a special girl in your life enjoys BYOU as much as Twin A has.
And now…Back to our regularly scheduled post:
*************************************************************************************************************************
Dear Santa,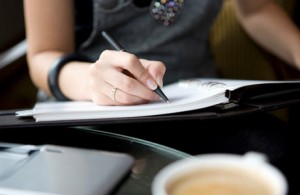 I'm sure that you're pretty surprised to hear from me.  And, to be frank, I'm rather surprised to be writing you, considering the fact that I've tiptoed around my home on your behalf every Christmas Eve for the past eleven years, leaving presents underneath the tree and in the stockings, snarfing down cookies, guzzling milk, leaving crumbs and forged reindeer hoofprints in my wake.
But, as you know, my children have joined forces as of late in hopes of winning your favor. And, in all honesty, this uncommon show of unity and cooperation has me somewhat concerned.
So I'm going to hedge my bets and operate under the assumption that you are, indeed, real, and capable of granting super-big Christmas wishes.
Let me be clear:  This is not one of those sniveling, smarmy letters about some ridiculous object of my desire that I MUST see under the tree come Christmas morning.
Oh, no.
It's about what I DON'T want to see under the tree.
And that would be a puppy.
Please don't be too hasty to judge me.  Here's the deal, Santa:  The Cherubs have been yammering for a puppy since mid-October.  As soon as their tears over the loss of our beloved Macy had dried, they turned their collective attentions upon Christmas…and how it would be the perfect time for a new dog.
I disagree whole-heartedly.
Does that make me mean?
Wait…don't answer that.  Just hear me out on this one first, big guy.
I think that fulfillment of Christmas wishes is fabulous.  I really, really do.
And I love me some baloney-breathed, razor-toothed puppy affection as much as the next girl.
However.
I truly don't believe that the time is right.
There are the obvious, practical reasons:  The Cherubs are in school and unable to help with the care of a puppy.  We will be doing some traveling as a family during the winter months. These creatures need to spend plenty of time outdoors as they are being housetrained, and who in their right mind wants to supervise tinkle time while standing in knee-deep Illinois snowdrifts and shivering in sub-zero degree temperatures?
No one, that's who.
But, practically aside, there's more.
And here's where it gets sort of dicey, St. Nick.
The Cherubs aren't aching for a dog.
There.  I said it.  And I won't waver on this issue.
For the past eleven years, they've always had a dog – or two – around the house.  They've tripped over the creatures and pulled their tails and attempted to dress them up and put makeup on them and taught them the Cha-Cha Slide and all the things that deranged young dog owners do.
Dogs have consistently been part of the family portrait around here.  The Cherubs have never been without one.
Just like they've never been without a family room couch.
Or holes in the big toes of their socks.
Or overgrown fingernails.
A dog always been a given, so to speak.
And now?  Now that the given is…well…gone?
It's become clear to me that they're truly starting to appreciate what they had.  It's a sensation that's hard to come by in this age of entitled youth.  And it's…dare I say it?  Character building.
So, Santa, while it is most definitely your call whether or not to leave a wriggling bundle of cuteness under our tree this year, I'm going to ask that you resist The Cherubs' pining and allow them to wait a while longer.
It is Christmas, after all.
And just as a certain birth was heralded some two thousand years ago after the world had waited…
And waited…
And then waited some more…
I know that my children will herald the inevitable arrival of a new friend
If they are allowed to wait
A bit longer.
Inspired by a prompt from

"Write a letter to Santa and let him know what you'd like to see under your tree this year."
Related Posts via Categories