First:  A bit of business…Congratulations to:
Barbara: bkreinar@yahoo.com
You are the winner of last week's ThinkFun Distraction giveaway!  I've emailed you to obtain shipping address information.  I hope your family enjoys Distraction as much as my family has!
And now…Back to our regularly scheduled post:
 …………………………………………………………………………………………………………………………………………….
The invitation arrived via text message from my girlfriend M on a Wednesday as I was sitting in front of the television, laptop in front of me, wine within arm's reach, perusing Pinterest: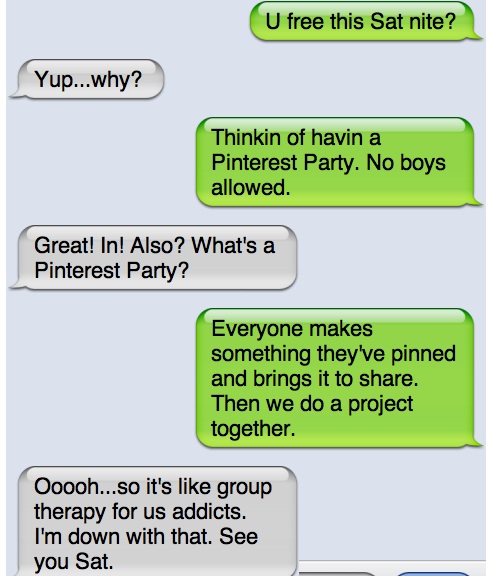 Giddyap.
I immediately stopped pinning new items of interest like some kind of deranged online hoarder. Instead, I began to comb through my existing boards with a skeptic's eye, trying to decide upon juuuuuust the right food & drink to bring.  I wanted to bring my "A" game to this shin-dig.
Not that it was to be a competition or anything.
Because it wasn't.
Just a fun evening in with friends.
But you must understand:  This is my *younger* group of friends.  I dip my toes into several social "pools," if you will.
And with this particular group?
I am the *older* mom with the *older* children.  *Insert gratuitous air quotes*
Many of these women turn to me if they need a word of advice from someone who has learned not to give a shizzle how to roll with the proverbial punches of parenthood.
Or if they wish to hire one of The Twins as a babysitter.
These women read books on parenting, dress their children like little models, and arrive on time.
All the time.
Yeah.  They're those moms.
My girlfriend M?  The one hosting the shin-dig?  In addition to raising three small children?  Is an interior designer, for Heaven's sake.  Check her out on Pinterest.
The whole creativity gene that escaped me courses through her veins along with her innate kindness and generosity.
I'd hate her if I didn't love her so.
Anyway.
As my contributions to the Pinterest Party, I finally settled upon this
And this.
I'm so glad I did. Because when Saturday rolled around and I entered M's house with my goodies in tow? This is what I stuffed my gob with was privileged to view and sample:
And then?  It was on to the crafty part of the evening.  We made Vanilla-Brown Sugar Body Scrub.
Yeah.  It was that kind of a party.  This old dog learned a few new tricks that night.
I just love hanging out with overachievers, don't you?
Tell me…do you try many of the things you pin on Pinterest?  Have you attended a Pinterest Party?  Or is Pinterest  more of  virtual hoarding spot for you?
*FYI:  All of the recipes and projects in this post can be found on my Tried It board.  Enjoy!

Inspired by a prompt from Mama Kat's Writers' Workshop:  "Time to get crafty!  Share something you've been working on."
Related Posts via Categories