First:  A bit of business…
The winner of the Tomy Chuggington Stack Track Giveaway is:
1) Danielle M: dgood————
Congratulations, Danielle.   I've emailed you to obtain shipping address information.  I hope you enjoy your Stack Tracks as much as we have.
And now…Back to our regularly scheduled post:
*************************************************************************************************************************
 "What's a liver?"  The Small One asked, tears in his eyes.
I walked over to my youngest son and rubbed his back as I spoke.  "It's one of your internal organs.  It does lots of things.  One of its jobs is to move waste through your body.  I think. Biology has never been my specialty, hon."
"Oh, it's biology?"  He brightened, scraped back his chair, and scampered away from the kitchen table.  "Hang on!  I'll be riiiight baaaaack!"  His voice trailed off as he ascended the stairs to his room.
That left The Twins and me to blink at one another through our own watery eyes as we ate our cereal under an almost tangible cloud of despair.
"Will it hurt?"  Twin B whispered.  The three of us looked at Macy the Geriatric Weimaraner together.
She was reclined on her side, head resting upon the carpet.  We knew that she could not hear…hadn't been able to in months…but we spoke in hushed tones nonetheless.
I shook my head.  "It's a very peaceful procedure."
"Okay."  The Small One panted, settling down at the table once again, his cartoon illustrated biology book in his hands.  "Let's see."  He consulted the contents, thumbed through the pages, located the one featuring an irregularly shaped blob with a smiling face, feet, and hands.  A white vacuum cleaner was grasped in one of the hands.  He began to read aloud.  "The liver is a wobbly workaholic who cleans up after the rest of the body.  This hothouse of activity generates heat for the body.  It just beats the brain as the body's heaviest organ."
He furrowed his brow, shrugged, and flipped feverishly through the rest of the book.  His sorrow was temporarily and mercifully eclipsed by his  fascination with all things scientific.  "Guys! Checkitout!  Everything in your body's in here.  Everything:  Heart…brain…nose…ear…stomach…"
The Twins and I slipped away from the table, laid down on the floor, and began to pet Macy, tracing our hands over the bony landscape of her 12 and a half year old body, which had dropped ten pounds in the last several weeks.  Our tears flowed freely now and matted the fur around her neck as we nuzzled her.
She slept on.
"Touch…hormones…" The Small One continued, clearly on a roll now.  "…egg…sperm…baby in wahmb…"
I swiveled my head around sharply and craned my neck to see what he was reading.  Baby in womb.  Fabulous.  Yet another dicey conversation on the horizon.
The Twins sniggered, rolled their puffy, bloodshot eyes, and looked at me knowingly.
Thankful for the levity of the moment, I grabbed a tissue, blew my nose, shooed The Small One upstairs to get dressed, and told The Twins that they needed to say their goodbyes before catching the bus to middle school.
And they did.
As they backed away, Twin A held out her phone and snapped a picture.
Then they walked out the door and toward the bus stop, shoulder to shoulder, blond heads bowed together.  It took me a moment to realize that they were hunched over Twin A's phone. The sneaky girl had smuggled it out the door with her, which was against protocol on school mornings.
And I was too drained to care.
An hour later, The Small One was gone as well.
Two hours later, so was Macy.  As my groom and I walked out of the veterenarian's office, holding her empty harness and leash between us, our phones pinged simultaneously.
We looked at each other, and then at our identical text messages:
C U in Heaven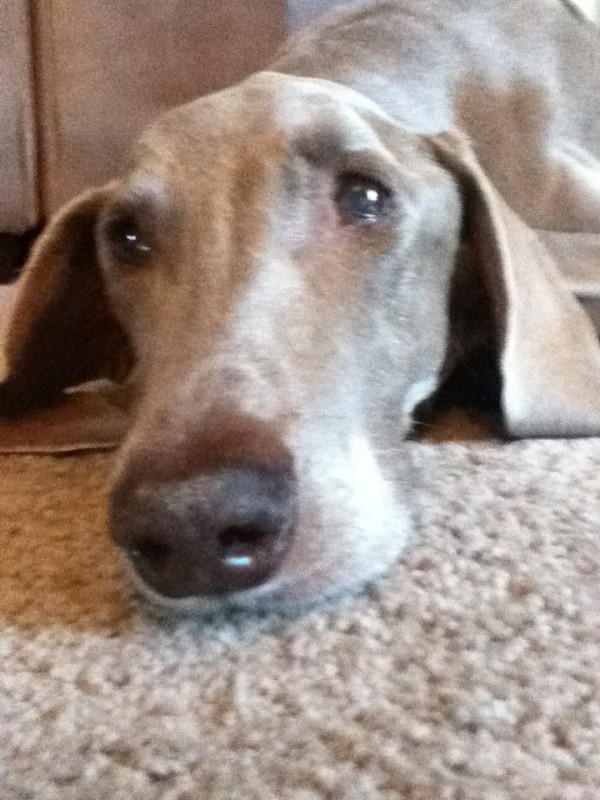 Linking with Things I Can't Say
Related Posts via Categories