I don't have too much to say today, friends…I fear that a twinge of Seasonal Affective Disorder has finally gotten the better of me.
Today is March 13th.  Two weeks before Spring Break week in Chiberia.  And on the 11th?  We received yet another healthy dumping of snow.
It is too much.  Too much, I say.
The bird that usually nests in my laundry room windowsill keeps conducting tentative fly-bys,  unsure of where to land and start her brood.
My back deck is overflowing with as much dog excrement as snow.  On the coldest days, poor Gwen the rescued Foxhound-Beagle Mix doesn't dare to tread down its slick stairs to the back yard below.
But today…as I defiantly drank my coffee on on of the front porch rocking chairs, parka-clad, teeth a-chattering…I glanced up at the sun (NotForTooLongYoullBurnYourRetinae) and felt a rush of optimism.
I surveyed the icicles hanging from the garage roof.  They glistened as fat drops of melting ice fell from their tips to the driveway below.
My eyes darted across The Tundra Formerly Known as the Front Lawn.  And while there was still not a patch of green to be found, I did see something that made me smile.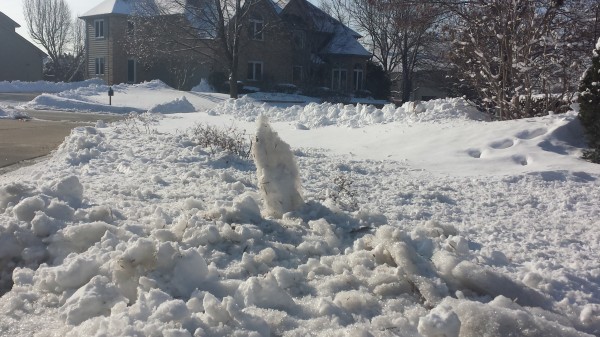 Can you see it, friends?
At first I couldn't believe my eyes.  We have built no snowmen since January.  What I witnessed on my front lawn was created by nature itself.
Surely, it was a divine message.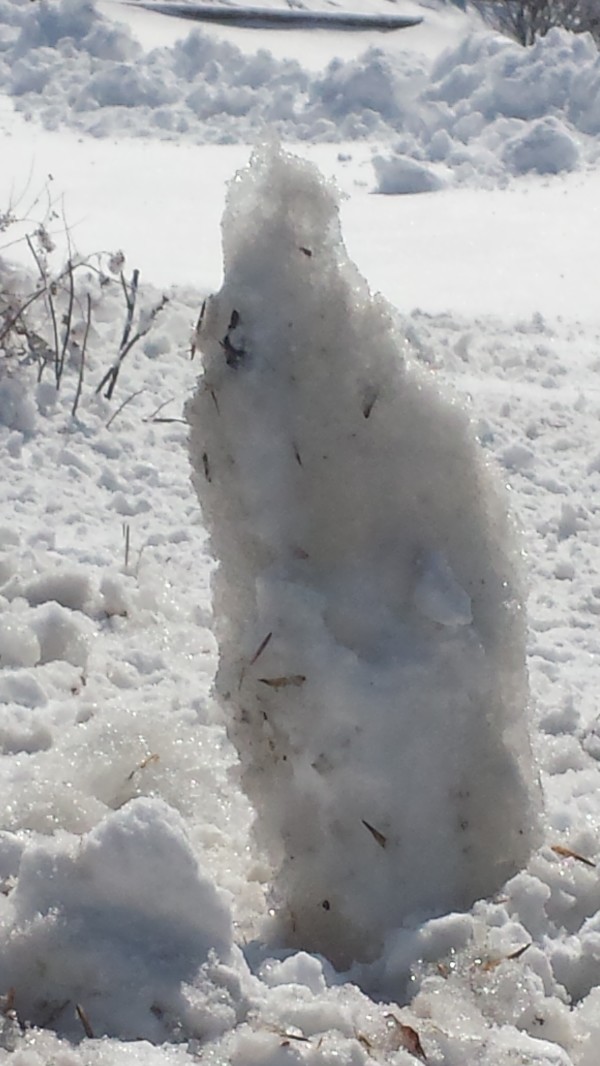 Winter, that saucy season, was flipping itself the bird.
Surely, spring is on its way.
Inspired by a prompt from Mama Kat:  "Something that you have too much of."
Related Posts via Categories