When the folks at Tomy approached me about reviewing their newest die-cast line of tracks, I was somewhat hesitant.
For although my youngest son, The Small One, is a tremendous train fan, the Tomy line presented a bit of a conflict of interest.
You see, my family and I have always collected wooden train sets.
And now…
Die-cast tracks?
Not our bag, baby.
But we were willing to give it a go, for the sake of free toys research.
So Tomy sent us Brewster's Big City Adventure, Koko's Icy Escapade, and the Icy Escapade Expansion Pack.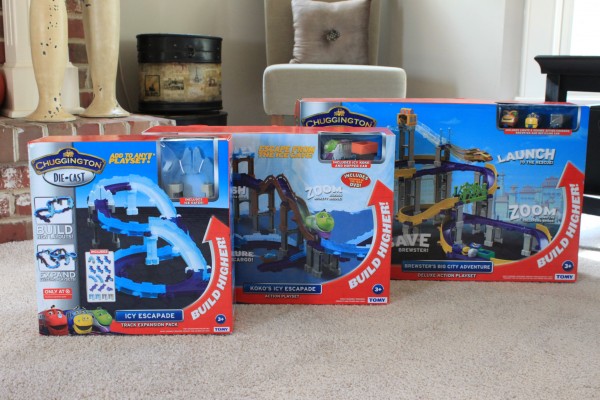 I kid…I kid.  The child sports the best bedhead west of the Alleghenies.
But he was impressed.
Stack Your Track!  The packaging read.  Build Higher!
I had my doubts.  Every parent of a train fanatic knows that what goes up must come crashing down, with much wailing and gnashing of teeth on the part of said fanatic.
But we had to give them a fair shake.  So after a quick change of clothing and taking a backhoe comb to The Small One's hair, we got down to business.
The first thing that struck me was the fact that The Small One wanted no assistance with his project.
Whatsoever.
"I've got this, Mom," he chirped.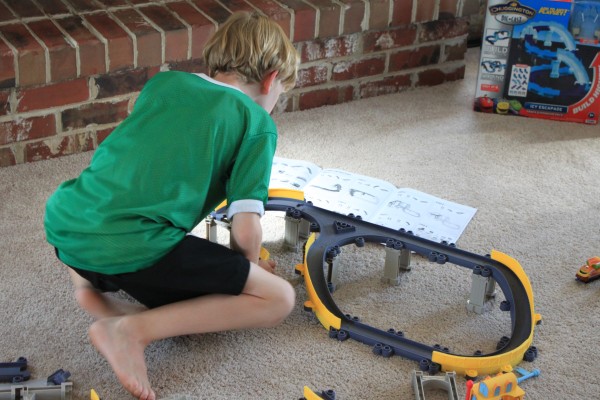 And indeed he did.  He decided to follow the building directions to start with.  They were very user-friendly…all sequential diagrams that could easily be followed by children younger than my son.  He put together Brewster's Big City Adventure in about 15 minutes.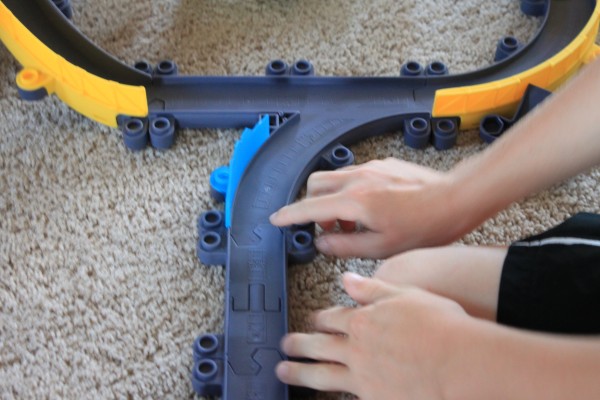 Turns out that the die-cast design of tightly interlocking pieces is the key to taking track layouts to a whole new level.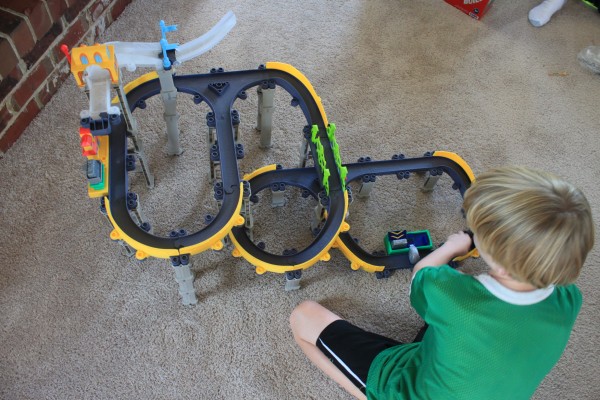 Literally.
And that was just the beginning, friends.  With Brewster's Adventure completed, The Small One pounced upon the Koko's Icy Escapade set.  After following the instructions and setting it up next to the Brewster set…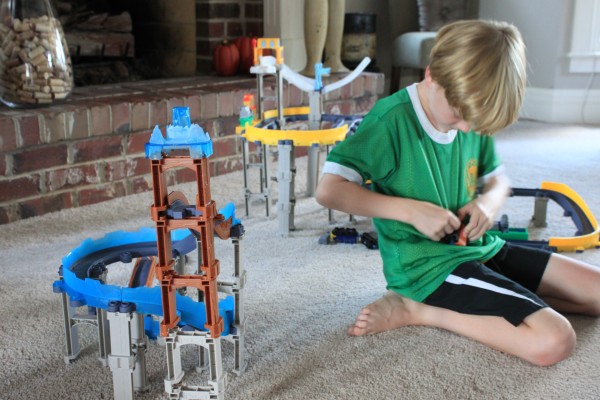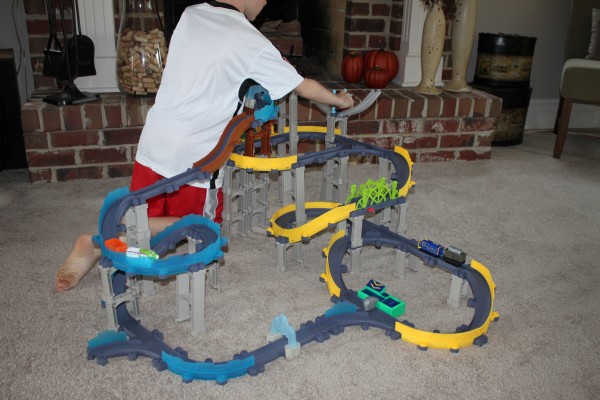 …He got creative and hooked the two together.
It was a snap.  Again…literally.  He actually dragged one completed set over to the other when he was ready to attach them.
I had never, in all my years of wooden track elitism, seen a set so sturdy and durable.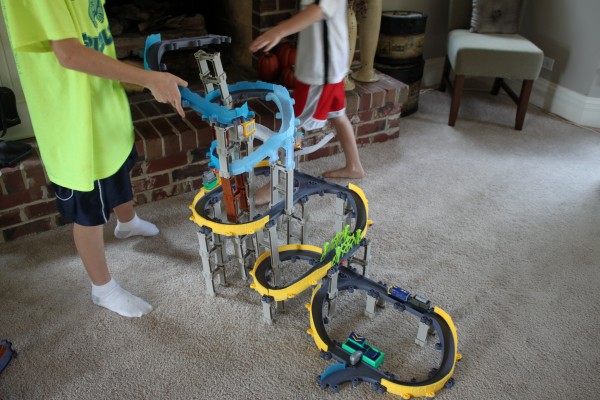 And neither had Twin B, who wanted in on the action.  After working together to modify the layout a third time, the boys decided to make the set really, really high.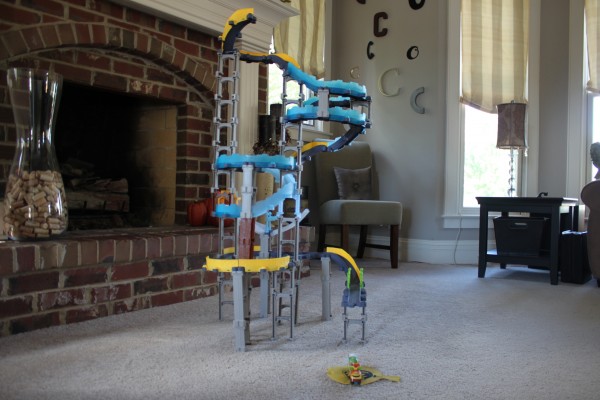 And for those of you with an extra sense of adventure, I highly recommend…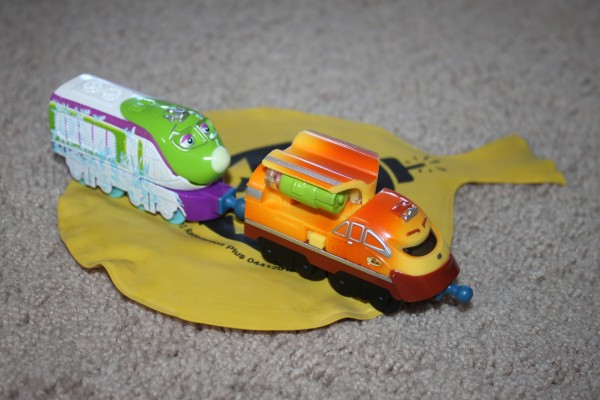 …the Whoopie Cushion Landing Pad (not included).
It pains me to think that I had been practicing Wooden Track Snobbery.  For no good reason whatsoever.
I'm so ashamed.
And I will tell anyone who will listen that I am now a believer in Tomy's Chuggington Stack Track.
And what about you, friends?
Would you be interested in giving Stack Track a whirl?
Well, fortunately, Tomy is offering yet another set, Wilson's Wild Ride, to give away to one of my readers.
Giveaway Rules:
Each comment left on this post, from now until Thursday, September 27th, will be considered an entry.  The winner will be chosen by random electronic drawing and announced in a post on that date.  Multiple entries (up to five) per person are encouraged.  To enter, do one or more of the following. Verify each action with a separate comment here.
1.  Follow my blog and leave a comment telling me what appeals to you about Tomy's Chuggington Stack Track line.  Their entire line may be viewed here.
2.  "Like" The Spin Cycle on Facebook.
3.  "Like" Tomy on Facebook and share this giveaway on your wall.
4.  Follow The Spin Cycle on Twitter and tweet this giveaway.
5.  Follow Tomy on Twitter.
Good luck, friends!
Disclosure Statement:
I was provided with Tomy's Chuggington Stack Track in order to complete this post.  All opinions are my own.  Only residents of the United States and Canada are eligible for entry.
Related Posts via Categories