Do you remember when you were expecting your first child?
Of course you do.  We all do.
For me, it was twelve years ago.  Practically an eternity when I look back upon it now.  I was carrying The Twins and was one big old bloated hot mess.
Minus the hot.  Emphasis on the mess.
I wanted to do everything just right for my unborn Cherubs.  So I read anything that I could get my hands on pertaining to their health and well-being.  My "Bible," as it were?
What to Expect when You're Expecting.  Roll your eyes Raise your hand if you've read that one a thousand times over.
And after the birth of The Twins, I sated my desire for motherly perfection with What to Expect the First Year.
And then What to Expect the Second Year.
And then…wait for it…
What to Expect the Toddler Years.
And while all of the books in this cleverly named series were informative, I always read them with a sneaking suspicion that they were actually written by men. Or cyborgs.  Or perhaps male cyborgs.
Where was the hilarity?  The grodiness?  The chaos?  The sometimes-mama-just-needs-a-stinkin'-cocktail?
In sum…where was this back in the day?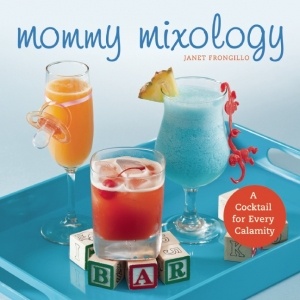 This book?  Has everything the What to Expect books do not.
The hilarity.  The grodiness.  The chaos.
And…ahhh, yes…the cocktails.
Author Janet Frongillo has taken the underbelly – or perhaps the muffintop, as she might say – of motherhood, and made a party of it in this book.
When your girlfriends are roasting toasting you and your expanding waistline at your baby shower?  Follow Janet's recipe to the letter for a fabulous, non-alcoholic Fertile Myrtle Mimosa.
Once you've given birth and are enjoying your little bundle of joy, plus the pesky thirty pounds of extra baggage that you just can't seem to shake, no matter how hard you Zumba?  Throw the towel in for a night and treat yourself to a Muffintop Mommy Mudslide.
When you're in the throes of teaching your Cherub how to use the facilities, and you're going through size 3 Disney Princess underwear faster than John Mayer goes through Hollywood starlets?  Call it a day with a Cosmopotty.
Janet also gives the inspiration and recipes for gems like:
*The Houdini Hurricane
*The No!Jito
*The Mother Clucker Coffee
*The Son of a Beach
*The Separation Sour
This book has more than fifty seriously delicious recipes for calamity-inspired cocktails, plus real-life anecdotes to go with them that will have you alternately nodding your head in sympathy and laughing out loud like a loon.  Trust me.  Janet knows funny.  And she brings it with Mommy Mixology.
I'll bet you know a mom-to-be who would get a kick out of this book.  Or heck, maybe you'd like it for yourself to beef up your barmaid's repertoire.  So give it a shot…pun totally intended…and enter to win your own copy of Mommy Mixology.  Here's how:
Each comment you leave on this post, from now until Thursday, August 23rd, will be considered an entry.  The winner will be chosen by random electronic drawing and announced in a post on that date.  Multiple entries (up to five) per person are encouraged.  To enter, do one or more of the following. Verify each action with a separate comment here.
1.  Follow my blog and leave a comment telling me which cocktail I've mentioned appeals the most to you.
2.  "Like" The Spin Cycle on Facebook.
3.  "Like" Janet aka "Muffintop Mommy" on Facebook.
4.  Follow The Spin Cycle on Twitter and tweet this giveaway.
5.  Repin the Mommy Mixology image above on Pinterest.   You can click on the picture itself  or click here to get started.
Good luck, friends!
Disclosure Statement:
I was provided with a copy of Mommy Mixology in order to complete this post.  All opinions are my own.  Only United States residents are eligible for entry.
Related Posts via Categories