It's no secret that I'm completely obsessed with Pinterest.
For me?  It's more than a diversion.  Or a social media tool.
It's a way of life, friends.
I use it to cook.  To decorate my home.  To gather ideas for my garden.  To plan The Cherubs' birthday parties.
Case in point:  As The Small One's birthday approached last month, I turned to my dear friend Pinterest for ideas that would complement the Lego themed birthday party that I was planning. And I found this, courtesy of Martha Stewart Living: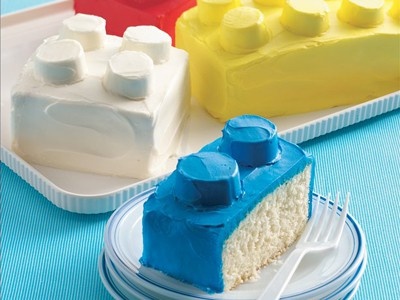 I know, right?
So I went and re-created it.  With an ice cream cake, because the child is insane doesn't care for traditional cake.
And?  Not to toot my own horn…but…pssssst…I've written a step-by-step tutorial on how I did it.  I'm considering pinning it as well.  Would you mind giving it a little look-see and letting me know what you think?
Ahem:
Martha Stewart Inspired Lego Ice Cream Crake – A Spin Cycle Tutorial
1.  Three days prior to the anticipated birthday party, print out a color image of the cake that you wish to recreate.
2.  Take it to the Dairy Queen on the corner and ask the lady behind the counter if she can do it for you.  When she starts shaking with uncontrollable laughter, place an order for an undecorated Ginormous Rectangular Ice Cream Cake, muttering, "Whatever.  I can decorate the thing myself.  Please stop laughing at me."
3.  On your way home, stop at the grocery store and purchase marshmallows, icing, and food coloring.  Congratulate yourself on how far in advance you are preparing.
4.  On the day before the party, pick up the Ginormous Rectangular Ice Cream Cake that you have pre-ordered.  Take it home, affix the marshmallows to the top, slice it into assorted Lego brick shapes, and return it to the freezer until the next morning.  Again, pat yourself on the back for your foresight and planning.
5.  The next morning, five hours before party time, mix your icing with food coloring to create adorably vivid Lego colors.  Head to the freezer to remove the cake.
6.  Clutch at your chest and grab the kitchen island to steady yourself as you notice that the door to the freezer is slightly ajar and has most likely been that way all night long.
7.  With quivering hands, remove the cake from the freezer and find it nearing room temperature and looking like so: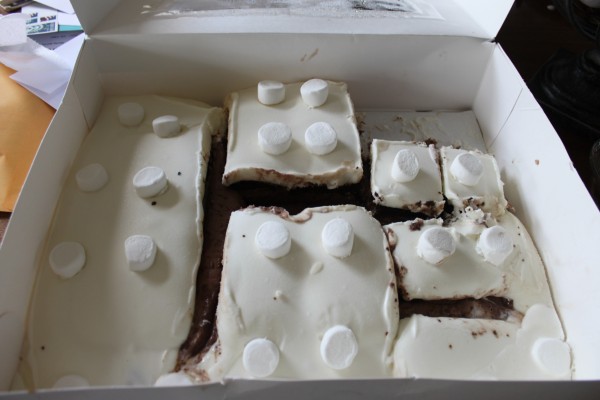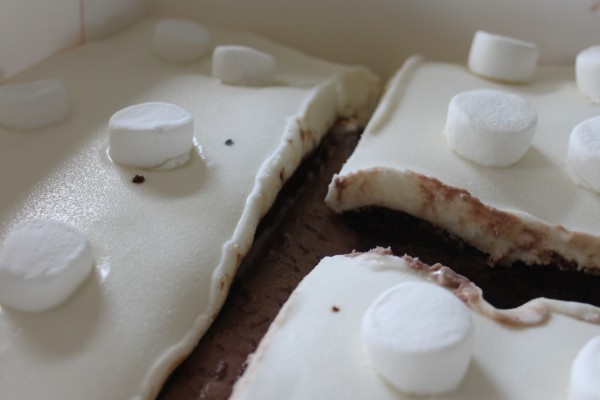 8.  Have a nervous breakdown followed by a hissyfit that wakes all of your Cherubs, your groom, and your dog, who vomits on your carpet in a show of solidarity.
9.  Clean up the dog vomit, pull yourself together, pick up your phone and call every store within a ten mile radius who might have a replacement Ginormous Rectangular Ice Cream Cake.  Get laughed at by everyone except for Baskin Robins.
10.  Dash out to Baskin Robins, purchase your second Ginormous Rectangular Ice Cream Cake in less than 12 hours, hug the perplexed teenaged boy behind the register, hustle home, and begin the marshmallow-affixing and Lego-brick-shape-slicing processes.  Again.
11.  With time running short, forgo the return-to-freezer step and go right to icing.  Discover shortly thereafter that the icing process is a royal pain in the arse which requires time and patience that you do not possess.
12.  While spewing a wide variety of words that are not meant for your Cherubs' delicate ears, make a huge mess of the icing process, like so:
13.  When you are finished, you should have a Frosted Lego Ice Cream Cake that looks like so: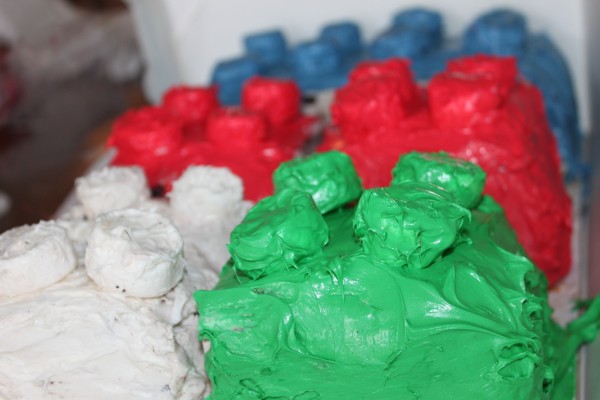 And that, my friends, is all there is to it.
I know what you're thinking.  You totally want to follow me on Pinterest now.  Click here to make that happen.
Until next week…
Related Posts via Categories