I wasn't always lousy at math.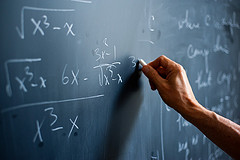 I was a good student across the board in elementary school and whipped through my times tables in third grade to earn the reward of a triple scoop ice-cream cone from Mrs. Bonine.
That was in the late 70′s, before childhood allergies, hygiene issues, and the epidemic of American obesity found their ways into our classrooms.  And it was heavenly.  I relished that drippy, sticky mess at my desk and was so consumed by its awesomeness that I forgot that there was a paper napkin wrapped around it and gobbled the chocolate-soaked napkin right along with the cone.
I made my way through junior high holding my own in mathematics, including studies under the first year-teacher Mr. Richards, a ruddy-faced man with a prematurely receding hairline that belied his tender age. Using the overhead projector to guide us through simple algebraic procedures, he had an affinity for drawing little cartoons that related loosely to the equations.
Tyson Moran and Jim Farrelli sat behind me in that class and never ceased to find some some kind of sexual interpretation for each and every one of his drawings, and they would lean forward and whisper into my innocent twelve year-old ears, "Heh.  You know what that surfboard looks just like, Sue?  Do ya?"
You might say that I received a two-for one bonus of sex ed. right in my math class.  Tyson and Jim delighted in making the back of my neck and ears turn as red as Mr. Richards' cheeks.
But still.  I was pretty good at math then, if not somewhat scarred.
For me, it unraveled toward the end of high school.  I threw myself into reading and writing to the point that the logical side of my brain grew atrophied.  My A's slipped to B's, threatening my place on the High Honor Roll and in the National Honor Society.
And then?
It happened.
I was assigned to Miss Garrity's trigonometry class.
The rumors that swirled in that woman's wake were nothing short of harrowing:
She lived alone with forty-eight cats.
She purchased all of the clothing for her large frame at the Salvation Army four sizes too big to accommodate weight fluctuations.
She had served a top-secret stint in the armed forces that had left her without two fingers on her right hand.
Now.  I never could decipher fact from fiction with regard to the gossip.
But I will say this:
I recall, as if it were yesterday, sliding into my seat as a senior on the first day of trigonometry.  Miss Garrity was at the blackboard with her hands clasped behind her back as we silently filed in, all the other students as filled with trepidation as I.
Without a word of greeting, she launched into a trigonometric tirade, turned on her heels, and raised her arm to scrawl an equation on the blackboard.
In slow motion.
With the Jaws theme suddenly and mysteriously playing in the background.
And, friends?  The oversized sweater cuff engulfing her entire right arm fell back to reveal…
…a three-fingered hand.
I stared, jaw agape, not so much grossed out as much as in awe of how she could write with two fingers missing.  My shock and awe continued through the semester, rendering me incapable of following anything Miss Garrity said.  All analytical ability leaked out of my slack jaw as I simply marked time for four months, staring.  It is through the grace of God alone that I escaped that class with a C+.
And that?  Is when I became lousy at math.
How about you?  What was your least favorite subject in school?
Inspired by a prompt from Mama Kat.
Related Posts via Categories