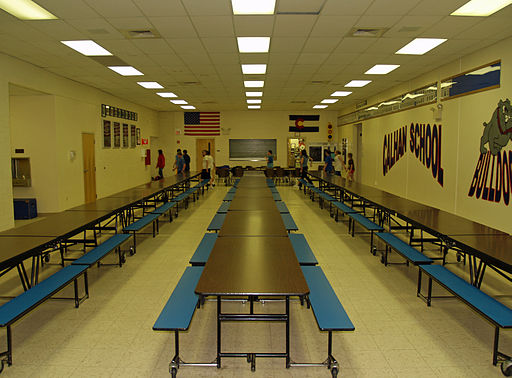 "Hey…do you grow corn in those brows?"
I hunched over my lunch tray and feigned extraordinary interest in my rectangular slice of  pizza and giant chocolate chip cookie.  I dutifully mopped up the grease that shone from both of their slick surfaces with a ridiculously thin napkin.  Anything to appear preoccupied enough not to respond to my tormentor.
But this particular jeer was differnent.  It was not directed at my lavender Minnetonka mocassins or my Gloria Vanderbilt jeans with the swan insignia on the right butt cheek.  I was used to being ridiculed for my fashion choices that had been all the rage in Minnesota but didn't quite cut it here in suburban Chicagoland.
However.
Something about brows?
Perhaps it wasn't directed at me.
So I shot a furtive glance across the cafeteria table.  And I instantly regretted doing so.  Robbie Catalano was sneering at me.  I felt the familiar heat creep up my neck and color my face.  He was making fun of me.  Again.
And I didn't get it.
"What?" I asked.
"Your eyebrows.  Can you grow corn in them?"
"Huh?"
Robbie flicked his bangs out of his eyes and snickered.  "Ever heard of TWEEZERS? Minnes000000-duh?"
Comprehension washed over me.  My parents had, time and again, told me that I had inherited The Derby Brows from my mother's side of the family.  I had always worn this title…and my thick, dark eyebrows…with a certain degree of identity-forming pride.
Until this moment.
My pride shattered into a zillion little pieces and was replaced by resentment.
That resentment propelled me through the rest of that afternoon and pedaled me home from junior high faster than I had ever ridden before.
I burst through the front door and past my mother's bewildered expression.  I took the steps two by two, veered sharply to the right, entered the master bathroom, and locked the door behind me.
I rummaged through Mom's vanity drawers, ignoring her insistent knocking on the door and muffled inquiries as to whether I was all right.
I would be all right after I found her blasted tweezers and tamed The Derby Brows.
But I could find no tweezers.  Wiping tears from the corners of my eyes with my shirt sleeve, I sat on the edge of the tub and looked dejectedly around the bathroom…until my gaze settled upon the razor that lay inches away from me in its little plastic holster.
With a trembling hand, I picked it up, rose, and looked in the mirror.
I centered that razor just below my brows, and with one smooth stroke, drew it upwards.
Nothing happened.
Because I had positioned the wrong side of the razor against my face.  Sighing, I flipped it around, repeated the smooth stroke…and…
sssccccrrrrraaaaatch.
My caterpillar-like eyebrows were now half their original length, with a two-inch chasm of extra-pale skin spanning the distance between them.
……………………………………………………………………………..
That was some thirty years ago.  And over the weekend, when Twin A watched me touching up my brows before bedtime and asked about the tweezers, I gave her a quick lesson on her own Derby Brows before placing the tweezers in her hand and closing her fingers around them.
"Here."  I told her.  "They're yours.  Put these in a safe place."
And she did.
Inspired by a prompt from

"A Seventh Grade Memory"
Related Posts via Categories