I need to get real with you all today.
Lately?  I just haven't been feeling it, friends.  The blog, I mean.
Ever get that inclination yourselves?  That you need to make a change?
Yeah.  That's right about where I am at the moment.  Needing a change.  I mean, blogging's fine and all…but…
But…
…but I just can't help but think that I'm cut out for more than this little chunk of the interwebs.
And I believe I've discovered the path that I'd like to follow.  Actually, it's not too far off from persuing a career in professional blogging.
I'm going to try my hand…
…at professional spamming.
I know what you're thinking, friends.
You doubt that I'm up to the task, don't you?
Well, I have news for all of you who doubt me:  I've been studying up on spam lingo.  My comment folders are full of spam samples. Dozens and dozens of spammy gems ripe for the picking, studying, dissection, and emulation.
I can do this.
And I can teach you how to do it, too.
Presenting: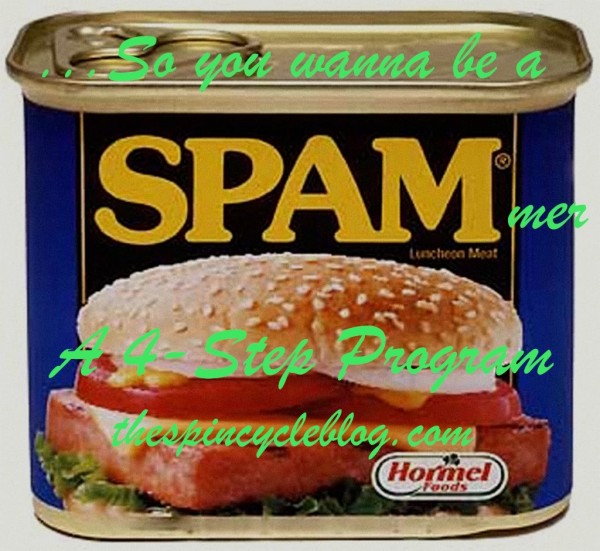 1.  A good generic greeting gets things going.
One might think it best to use the blog author's name when addresssing a comment on their post.  But one would be dead wrong if one were to think that, if one wishes to lead a truly spammy existence.  Ditch the familiarity.  Go vague or go home.
Sample Comment Salutations ~ Before Spammification:
"Hi, Sue!"
And After Spammification:
"This is a message to the administrator."
Before:
"Suzy-Q!  I've missed you and The Spin Cycle!"
After:
"Greetings and good day to the author of this weblog."
2.  Superlatives are the best.  (Ever!)    
Don't be afraid of false flattery.  There is no such thing to a spambot.  Lay it on thick.  And when you think it can't get any thicker?  Apply another coat for good measure:
Before:  "I really enjoyed this post.  You  taught me a lot about Google+ and Pinterest.  Thanks for the informative read!"
After:  "Wow, this was very most certainly the absolutely best weblog that I have seen in this area, possibly for future forever.  You are most surely clearly the highest in this expertise. Have you considered thoughts of running for president of the web?  You've got all of my very finest votes!  And I will additionally speak all of my most influencers to do the vote as extra."
3.  Speak in Tongues.  
Sometimes, the English language (or any intelligible language, for that matter,) just doesn't cut it.  That's when you just go with your gut, say a prayer, and strike whatever keys command your attention.
Before:  "I just have to tell you that you made me laugh and cry in the same post.  That's no small feat.  Still wiping tears from my eyes!"
After:  "ossKJlfknfjkl8nnfjkxkcxnjdfk;cxzv;lkzxl;vkz;lh;ofu89afygihvckjkjhUO**U*&hlknkjnkjbjk jhdksbfalkdsfj;asdjfhlkashdl;ashjdfkjashvkljshdlksjdhfkladsjhfklasdhfkajsdbflkadsjfbakjsdfhla/sdvjnzc xiuyeasf;ljasd;vu7awpoerygaihksvcmnxzjpoLSjj8sdkfhsdkljfbFJBAeeeeeeeeeeeeeeep."
4.  Sex sells.  
If your screen name is anything shy of X-rated, you may want to rethink your moniker.  I understand that this might make the average mom/family/lifestyle blogger a bit squeamish, but believe you me…you'll get results.  Just look at what a big difference a small name change makes:
Before:  Happy Thrifty Mama
After:    Cheap Cialis Online Specials
Before:  Catherine Does Motherhood
After:    Britney is Naked
Before:  My Embroidered Abode
After:     Oral Wonderland
You see?  See how easy spam can be? If you have any anything to add to my four-step program, I'd love to hear about it in the comments.
Based on a prompt from Mama Kat.  (What? I say it's a combo of prompt #2 and #4).
Related Posts via Categories