Friends?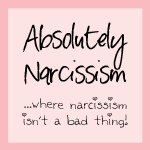 I am not here.  I'm on a little excursion with unidentified individuals to a top-secret location, for an undisclosed amount of time.
Which may or may not be ten days in Paris with girlfriends.
Squeeeeee!
Ahem.
Anyway.  I have enlisted the help of two friends to look after The Spin Cycle while I am away.  Today I'd like to introduce you to Sandra of Absolutely Narcissism.
Sandra, to me, is like that cool chick that you saw down the hall in high school but were too scared to talk to because she was so stinkin' fabulous.
She is smart.
And funny.
And popular.
And wildly irreverent.
And she makes no apologies for it.
She is Canadian, so she says exotic things like "favourite" and "realise."
And did I mention that she is drop-dead gorgeous?
But then you do work up the nerve to talk to her…and you come to know that she is just an all-around good egg with a heart of gold.
Please meet Sandra.  And then go visit her at her home in the blogosphere.  But whatever you do?  Don't be haters until you've gotten to know her.
********************************************************************************
They Hate Me!
I'm that parent that teachers talk about. Oh yes, they do.
I know they gather round the table in the break room, and while tearing into their granola bars, the conversation is abuzz with gossip about that annoying mom; that mom who clearly doesn't give a crap about her kid, you know which one I'm talking about, right? She has that cute little boy in the 4th grade who can't read very well.
She never signs the agenda so we never know if she's actually bothered to check if her kid even has any homework…That poor little kid probably has to pack his own lunch.
By now, the rest of the teachers are starting to connect the parent (me) to the stories of the poor little kid, who by the way, does NOT have to pack his own lunch. But he doesn't like to eat anything. What's a mother to do? So I send what I know he will eat: processed crackers and cheese. Sure it's not super healthy, but there must be some nutritional value in that, like calcium…and maybe, plastic?
And he can too read! It's just that he doesn't like it. Am I supposed to beat him over the head with the 4th grade storybooks, which by the way are stupid and boring? Give the kid some books with the word "poop" in them, and guess what, he won't be jerking my chain at story time anymore.
The teachers will continue their rants: She's the woman whose kid doesn't dress for the weather, the teachers are saying. He comes back from recess with red, chapped hands because his mother didn't send him any mittens. What kind of a mother doesn't send mittens, they'll add.
But I do tell him to take his mittens! I lay them out on the table next to his breakfast. I even watch him leave the house with them. But between my driveway and the school, I have no idea where those mittens disappear to. He claims he doesn't know either. He'll tell me, "I think I might have dropped them somewhere when I took them off because my hands were so hot."
What should I do, teachers? Should I sew the mittens onto his hands? Would that be better?
Sure, I could have followed my 9 year old to school, like a perfect parent. But I didn't. Because my mom never followed me around, and guess what? I still have hands, and I know how to read AND write. And back then, there was no such thing as a book in which my mother signed her name to show that she was aware I had homework to do.
So how do I even know the teachers hate me?
Well, I don't for sure.
Except I did get a note in the homework book last year, in which the teacher specifically told me: "Could you please send your son proper winter clothing for recess. And could you also send him a more nutritious lunch; one with fruits and vegetables. I know your son is a very smart boy because his teachers from his previous years have told me so. But they also mentioned that you don't sign the agenda, and as a result of this, he falls behind in his homework."
Unfortunately, I didn't get this message until near the end of the school year …
…Because I kept forgetting to sign the homework book.
Related Posts via Categories